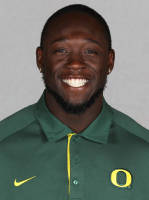 DeAnthony Thomas
Ht/Wt:5' 9"/176 lbs
Position: RB
School: Oregon
Class: Junior
De'Anthony Thomas' Player Profile
Before Oregon:
5 Star Recruit, as well as #1 Athlete according to Rivals.com. Was a track star, ran a 20.61 in the 200 meter, the best in the nation. As a senior averaged 11.4 yards per carry, and 22.4 yards per reception.
Career at Oregon:
Made an impact as a true freshman, scoring 18 total touchdowns. Over his 30 game career, has 124 carries for 1,634 yards (8.64 ypc) and 24 touchdowns. He has 94 receptions for 1,108 yards (11.7 ypr) 14 touchdowns. Also lethal as a return man, has 56 kickoff returns for 1,461 (26 yard avg.) for 3 touchdowns, and 16 punt returns for 272 yards (17 yard avg.) for 1 touchdown. His average yardage off his combined 290 touches at Oregon is an astounding 15.4 yards, and scores a touchdown every 6.9 times he touches the ball! Comparably, Tavon Austin averaged 13.79 yards per touch in his college career and scored every 13.2 times he touched the ball.
Scouting Report:
Here is a scouting report after breaking down 7 of De'Anthony Thomas career games.
POSITIVES:
Blazing speed.. Outstanding vision.. Makes explosive cuts.. Runs through arm tackles.. Elite second level acceleration.. Routinely makes first defender miss.. Decisive runner.. Rips off yardage in chunks.. Quick first step.. Impressive balance.. Great stop and start ability.. Shiftiness.. Will cut up inside and lower his shoulder.. Low pad level.. All-purpose yards.. Cutback ability.. Slot receiver skills.. Route running.. Threat to score every time he touches the ball.. Has potential to play CB.. Rare balance down the sideline.. Dynamic returner.. Great YPC and YPR.. Breaks a good amount of tackles for his size.. Soft hands.. Experience catching the ball.. Eats up yards.. Extremely productive.. Has potential to be best return man in NFL.. Smart and knows how to read 2nd level defenders.. Improved ball security.. Makes quick decisions as a runner.. Better inside runner than given credit for.. North/south runner who knows how to get up the field.. Doesn't dance or tip toe in the backfield.. Special teams value.. Threat on speed sweeps and reverses.. Hits hole quickly.. Great agility and lateral movement.. Outstanding at planting his foot and exploding out of a cut.. Elite receiver out of the backfield.. Great use of perimeter blockers.. Has experience as a gunner on punt coverage.. Can cut on a dime.. Great speed turning the corner.. Good hands and ball skills.. Knows how to set up blocks.. Instinctive player.. Elusive in the open field.. Home run hitter.
NEGATIVES:
Size.. Extreme liability in pass protection.. Can't handle 20+ carries a game.. Durability and ball security concerns due to size.. Not a power runner.. Won't pick up a lot of yards after contact.. May need time to develop as a WR.. Doesn't run over his pads.
Overview/NFL Projection:
With the rise of the playmaking athletes in the league, De'Anthony Thomas certainly fits the model of the best. He compares similarly to the following : Tavon Austin, Randall Cobb, Percy Harvin, Jamal Charles, CJ Spiller, Darren Sproles, and Reggie Bush. I believe De'Anthony's success in the NFL will be how well his Offensive Coordinator utilizes him. I believe he should be the starting returner on kickoff and punt return units. On offense he should specialize as a slot receiver who can line up outside as well due to his deep speed. He should also be used as the all-purpose change of pace back to spell his team's main runner. He can also be a matchup nightmare for linebacker in coverage from the backfield. But cannot be a 3rd down back due to his inability to pass protect. I think he should be used similarly to Sproles, Tavon, Percy, and Cobb. He should catch 60+ passes and carry the ball around 100 times a year, as well as handling both return duties. His success may be limited to the creativity of his offensive coordinator. He also has the versatility to play all special teams and play CB as well. I believe he will be a top 15 pick.
Profile submitted by: Adam Chappel - updated Sept. 25th
Would you like to write a player profile for any prospect that may be entering the 2014 NFL Draft? Email profiles of any player (even player's not on our list) to our
Webmaster
. Credit will be given to the author of the profile.
De'Anthony Thomas Videos
De'Anthony Thomas Highlights 2012 Season
De'Anthony Thomas - The Black Mamba
De'Anthony Thomas 2012 Highlights
De'Anthony Thomas 94 yd Kickoff Return Fiesta Bowl 2013
Click here to return