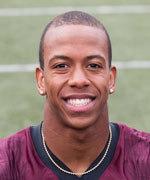 Trumaine Johnson
Ht/Wt: 6-2/205 lbs
Position: CB
School: Montana
Class: Senior
Trumaine Johnson's Player Profile
Trumaine Johnson should find himself getting drafted on day 2. Johnson has started 38 games out of 47 at Montana. He recorded 54 tackles, 12 PBUs and 2 INTs this year. Over his 4 years, he made 173 tackles, 35 PBUs and 15 INTs.
Has good size with long arms. Johnson has good speed and agility. Takes good angles and can cover the deep ball. Physical corner that doesn't shy away from it.
He was arrested and tasered in 2011 for obstructing an officer, disorderly conduct and resisting arrest. He had a knee injury in 2008 and a concussion and broken arm in 2009. Maturity level and character has been called into question by some. Needs to improve on route recognition and technique. Lacks focus at times.
Profile submitted by: Peter O'Donnell
Would you like to write a player profile for any prospect that may be entering the 2012 NFL Draft? Email profiles of any player (even player's not on our list) to our
Webmaster
. Credit will be given to the author of the profile.
Trumaine Johnson Videos
Griz Cornerback Trumaine Johnson- 4 Years At Montana
Trumaine Johnson Highlights
Trumaine Johnson vs Central Arkansas 2011
Trumaine Johnson vs Northern Iowa 2011
Click here to return