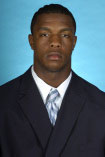 Quinton Coples
Ht/Wt: 6-6/245 lbs
Position: DE
School: N. Carolina
Class: Junior
Quinton Coples' Player Profile
UNC is turning into the Oakland Raiders of college football. They produce great size/speed prospects on the defensive side of the ball, who are probably going to UNC to be the next LT or Julius Peppers, but often their talent is not translating to the success you expect on the field and they are consistently in the headlines for drama away from the field. Coples is another one of those freakish athletes, at 6ft6 260+lbs he is very explosive and makes plays all over the field and he is going to wow you as much as anyone in the eye ball test and test out as a high 1st rounder in the combine. Last year he was one of the nationís most dominant performers on defense and this year he is facing double teams and still competing hard to make plays. He has added a lot of weight since going to college, how much we are not sure but he has still been able to add explosiveness. He profiles as someone who can be a dominant 4-3 end, but he has also lined up inside and could probably play 3-4 LB. I like his versatility and toughness even more than I like the profile. He is probably most valuable on the weak side and has the explosiveness to be a great pass rusher but if that doesnít work out he has showed that he will move to where you want him and he could be a beast on the strong side as well getting his hands on passes and causing disruption on the play side. He will also be an asset on special teams.
Like a lot of guys his size he has a tendency to play too high and take himself out of plays. Also, I donít know his weight. It could be anywhere between 250-290lbs. Inexperienced at weakside DE which is where he has most value. He is coming from a program that can fairly be labeled a disappointment during his career.
I donít like Coples as a top 10 pick, I can see it but I think it is too high. He has what makes scouts drool, I think he is a poor manís Mario Williams and Carlos Dunlap. I donít think he will bust and be out of the league in 3 years but I just get the feeling that down the line he is going to be a guy that will not play every down. He will be a valuable pass rush specialist and player in the kicking and punt game where he has the height and athleticism to block kicks, but I donít. It will help if he can go to a team that can teach him to master 1 position and be patient with him.
Profile submitted by: Tom Patterson
Would you like to write a player profile for any prospect that may be entering the 2012 NFL Draft? Email profiles of any player (even playerís not on our list) to our
Webmaster
. Credit will be given to the author of the profile.
Quinton Coples Videos
DE Quinton Coples NFL Pro Day Highlights
QUINTON COPLES - FOOTBALL HIGHLIGHTS - NORTH CAROLINA
Quinton Coples NFL Draft Analysis - 2010 Season
Quinton Coples Highlights
Quinton Coples vs Tennenssee (Music City Bowl)
Click here to return