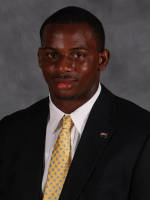 Fletcher Cox
Ht/Wt: 6-4/300 lbs
Position: DE/DT
School: Mississippi St.
Class: Junior
Fletcher Cox's Player Profile
Put him at defensive end or defensive tackle and he'll make an impact. At 6'4" 295lbs Fletcher Cox is a very quick big man and can get off the tackle and get up field rather quickly. He has a motor that won't stop either, double team or not. The highlights below will show that 90% of the time he is the first one in the backfield. Cox was the SEC Defensive Lineman of the Year four times and was first team All-SEC first team by Associated Press. In 2011 he had 56 total tackles with 14.5 tackles for loss. He had a very productive career at Mississippi State having 114 total tackles, 24.5 tackles for loss and 8.5 sacks and starting in 27 of his 36 career games. He is a very fast player which allows him to get into the backfield quickly, and allows him to pursue the ball carrier. If he adds weight he can be a dominant 3 technique, if he stays at 295-300lbs he can play both 3 and 5 technique. He has amazing upper body strength and uses very well along with his speed, he has the ability to run in the 4.7-4.8 range which could mean he'll land in the first round. I could see him gong mid to late first round.
Profile submitted by: Stephen Springer
Would you like to write a player profile for any prospect that may be entering the 2012 NFL Draft? Email profiles of any player (even player's not on our list) to our
Webmaster
. Credit will be given to the author of the profile.
Fletcher Cox Videos
Draft Preview: Fletcher Cox
Fletcher Cox vs Alabama 2011
Fletcher Cox vs Wake Forest
Cameron Lawrence/Fletcher Cox strip Demps
Click here to return