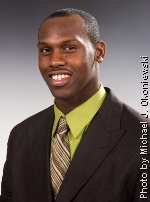 Chandler Jones
Ht/Wt: 6-5/265 lbs
Position: DE
School: Syracuse
Class: Senior
Chandler Jones' Player Profile
Chandler Jones was redshirted in 2008. He went on to start 28 of 32 games for Syracuse. He missed 5 games this season due to a knee injury. In 7 games this season he recorded 38 tackles, 7.5 TFL and 4.5 sacks. In 32 total games he made 147 tackles, 27 TFL and 10 sacks.
Has good size and bulk, and continues to fill out his frame. Excellent use of hands and long arms to shed blockers. Has good strength and speed. Jones has good instincts, and ability to get in throwing lanes. Shows good pursuit speed. He's still learning and shows lots of potential.
Needs to work on more pass rushing moves. With missing some games with a knee injury, so durability may concern some.
Profile submitted by: Peter O'Donnell
Would you like to write a player profile for any prospect that may be entering the 2012 NFL Draft? Email profiles of any player (even player's not on our list) to our
Webmaster
. Credit will be given to the author of the profile.
Chandler Jones Videos
Chandler Jones Sophomore Highlights
Chandler Jones Sack-Fest against WVU
Chandler Jones vs West Virginia
Chandler Jones vs Pittsburgh 2011
Click here to return