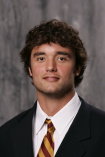 Brock Osweiler
Ht/Wt: 6-7/240 lbs
Position: QB
School: Arizona St.
Class: Junior
Brock Osweiler's Player Profile
Would you like to write a player profile for any prospect that may be entering the 2012 NFL Draft? Email profiles of any player (even playerís not on our list) to our
Webmaster
. Credit will be given to the author of the profile.Brock Osweiler is a very interesting prospect. His tools really stand out starting with his size at 6ft8 240lbs, a former basketball standout he has good athleticism for the QB position and a cannon for an arm. I would even say that he is special when throwing the football, he has a very quick release and can make all of the throws that you ask an NFL QB to make. The foundational deep in and out throws Brock can make easily, and he can put a ton of velocity on his ball. Also, he can throw the deep ball, and will work well with deep threat receivers, he has the ability to take the top off a defense. He has a bit of a gunslinger mentatiliy, he is not afraid to rip a throw in tight spots, he trusts his receivers. Brock also has tape of throwing with nice touch on fade routes and converts well in red zone opportunities. Even though he is mobile he always keeps his eyes down field, likes to stay in the pocket and does a good job of getting the ball out on time. Brock can be a bit streaky but his accuracy is solid at over 63% and that was not aided by high % throws as he was usually throwing downfield to his wrs. Brock shows a lot of competitiveness, he seems a bit brash but is fiery and is a guy that players will respond well to and is a willing leader. He brings some toughness and ability to extend plays but is a natural pocket passer.
His negatives start with only 15 career starts and a 6-7 record his final yr of college before leaving early. ASU wasnít the most functional program his final year. His size is very intriguing but rarely do you see a QB taller than 6ft5, and there could be concerns about being too tall, that he may struggle to get his feet set which is imperative to throwing with accuracy. Also, he gives defenders a big target to hit which is concerning for pocket passers who are often defenseless. Since Brock is leaving school early and has only 15 career starts, there will surely be a learning curve on making reads at the line of scrimmage and going through progressions. Brockís mobility will help him make the small movements to stay in the pocket and avoid pressure, but he does lack straight line speed needed to tuck it and pick up chunks of yards like some of the good ones do, so his athleticism shows up at times but I wouldnít say he is a threat with his legs.
I really think Brock Osweiler is a 1st rd talent but lacks a great pedigree which leads to some unknowns. I think if you are fine with drafting a QB project in the 3rd or probably 2nd round and can be patient with him to learn and gain experience it will be a good pick, especially if you have a good molder of young QBs, nobody doubts that he has a high ceiling. Due to his size there really isnít any good NFL comparisons, former ASU record breaking QB Andrew Walter might be the best one, at 6ft6 he possessed a cannon but after being taken in the 3rd round he was awful in very limited action with terrible Raider teams. Walterís problem may have been drive and confidence as he is out of the league before turning 30. Anyways, Brock Osweiler is a unique talent, I donít think many experts would be surprised if he turns out to be a good NFL QB but in a league that is short on patience I think that will be the key for this pick to work out.
Profile submitted by: Tom Patterson
Brock Osweiler Videos
Brock Osweiler: ASU Highlights
Brock Osweiler vs USC 2011
Brock Osweiler vs Boise State 2011
Will Brock Osweiler be a starting NFL quarterback?
Click here to return