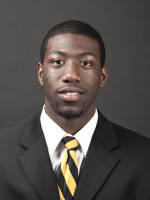 Brian Quick
Ht/Wt: 6-5/210 lbs
Position: WR
School: Appalachian St.
Class: Senior
Brian Quick's Player Profile
Brian Quick was medical redshirted in 2007 after 2 games. This past season at Appalachian State he had 71 receptions, 1,096 yards and 11 TDs. In 52 career games Quick had 202 receptions for 3,418 yards and 31 TDs.
Has excellent size with long arms and big hands. He is an excellent athlete with deceptive speed. A physical receiver that won't shy away from contact. Will go to the middle of the field to make a catch, and can hold on while absorbing a big hit
Still raw. Needs to work in his angles and technique. Has to use his size more to his advantage. Is not an elusive runner. Has not face elite corners.
Profile submitted by: Peter O'Donnell
Would you like to write a player profile for any prospect that may be entering the 2012 NFL Draft? Email profiles of any player (even player's not on our list) to our
Webmaster
. Credit will be given to the author of the profile.
Brian Quick Videos
Ultimate Brian Quick Highlights
Brian Quick 2011 Highlights WR Appalachian State
Brian Quick Tribute, WR Appalachian State
Brian Quick vs Maine 2011
Brian Quick vs Elon University 2011
Click here to return