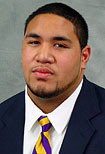 Alameda Taamu
Ht/Wt: 6-3/337 lbs
Position: NT
School: Washington
Class: Senior
Alameda Ta'amu's Player Profile
At 6ft3 330+lbs Alameda is an enormous athlete. Emphasis on enormous, and emphasis on athlete. He carries his mass with great ease and fluidity. What is remarkable is that he played high school basketball for a powerhouse program. If Ta'amu played in the SEC or big 12 he would probably be a household name, it is a shame that he has played on such a poor defensive unit, and being that the pac 12 is a qb, wr conference and that he is a 4-3 DT and is probably better suited at NT, which has made him a bit of a misfit but still doesn't stop him from being considered a 1st rd pick. Alameda took over the holiday bowl vs Nebraska and also had a big day vs Oregon last year. Not only is Ta'amu a space eater but he has a tremendous burst to make plays behind the line of scrimmage. His tackle numbers are pretty high for playing in the trenches. Mason Foster was 2nd in the nation in tackles last season partly because he had a lot of freedom with Alameda creating so much attention in blocking schemes. It is scary to think what he can add to a 3-4 defense, as he will be a natural and already has great experience playing against double teams and has the athleticism to pressure the QB and blow up screens and delay runs and runs up the middle.
His negatives has to do with his weight and conditioning. Some will say for how good of a player and prospect that he is how come his defensive unit gets embarrassed as much as it does (vs Stanford). Coaches have had to work hard to motivate him, as common for players his size he cannot go hard every play, needs rests, and can disappear at times. Ta'amu has had a bumpy ride at UW, I hope that he can adjust well to the NFL locker room intensity.
Ta'amu has the potential to see his stock go way up. If UW can finish strong and if he can solidify himself as a top performer in the conference the rest of the year I can see 3-4 teams really coveting him. You don't find players with his size with the ability to take on double and triple teams and still be able to blow up a hand full of plays each game which he should do if he is healthy and motivated. BJ Raji is almost a spot on comparison and we see the impact he has made by taking on double teams and making plays from the interior.
Profile submitted by: Tom Patterson
Would you like to write a player profile for any prospect that may be entering the 2012 NFL Draft? Email profiles of any player (even player's not on our list) to our
Webmaster
. Credit will be given to the author of the profile.
Alameda Ta'amu Videos
Alameda Ta'amu vs Arizona State
Click here to return